Scene – A large corporate office where three men are engaged in heavy discussion.  Each of them holds an old fashioned glass, with ice cubes and ginger ale.  The drinks may or may not contain bourbon.  The oldest of the three is clearly the leader but the two younger men are confident enough to state their opinions without fear of ridicule or dismissal.
*****
Older man: We've got to do something about the bullpen. It's the only thing I did this offseason and it's blowing up in my face.
2nd man: But if relievers are a crapshoot over 70 innings why on earth would we get one for 30?
3rd man: Plus you know 2/3 of the teams think they're going to make the playoffs and the other 1/3 are holding them hostage in trade talks.
Older man: Do you guys even watch the games?  Our pen is so bad it's a crisis because Frank Francisco and his 4.97 are on the DL.  And we're excited because a guy with a 5.67 ERA in the second half of last year got an out two days ago.
3rd man: But remember, we're responsible for getting Pedro Beato, so that's good news.
Older man: I want you two to list every reliever out there, what we would have to give up and tell me why that's a bad idea.
2nd man: Jonathan Broxton
3rd man: Royals want MLB talent in return.
2nd man: How about Jordany Valdespin?
Older man: If you're the Royals, why trade for the guy who hopes to turn into Yuniesky Betancourt when you've already got Betancourt playing for you?
3rd man: How about Dillon Gee?
Older man: We're worried about the fans turning on us now, what happens if we trade a starter and it's a guy that the fans think is good, like Gee?  Plus they don't want to see Miguel Batista for one inning, much less seven innings every five days.
2nd man: But we all know that Batista's only allowed 15 ER in 44 IP for us as a starting pitcher.
Older man: But the fans blame Batista for last night's loss when he came in and gave up the eighth run in the game.  It's as irrational to hate Batista as it is to like Gee but that's what we're dealing with here.
3rd man: OK, how about Matt Capps
Older man: Injured
2nd man: Alex Burnett?
Older man: 18 Ks in 41 IP.  Pass.
3rd man: Huston Street?
2nd man: He's already got his yearly injury out of the way.
Older man: The Padres are still miffed at me for scooping up Mike Baxter.  Look I'm going to step out for a minute. You two hammer this out and have a name for me with no issues when I get back.
Older man leaves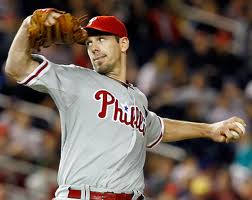 2nd man: I know we've been talking about relievers but we've been going about this all wrong.
3rd man: But we already missed the boat on Kelly Shoppach so we could sign Jon Rauch.
2nd man: Don't remind me.
3rd man: He would have been perfect.
2nd man: Enough!  Look, the relievers are an issue because our starters go six innings.  What if we got a starter to go eight innings every time out?
3rd man: You think the Phillies are going to trade Cole Hamels?
2nd man: They might.  But if they offer us Hamels should we ask for Cliff Lee?
3rd man: What?!?! Have you seen that contract?
2nd man: I have but I've also seen the 29.7 fWAR between 2008-2011.
3rd man: He's owed $25 million for each of the next three years and then $27.5 million in 2016 with a $12.5 million buyout!
2nd man: We make them take Jason Bay and have them kick in some cash
3rd man: Our boss won't do it and his boss certainly wouldn't do it
2nd man: And it's our job to convince them it's the right thing to do.
3rd man: Someone's got to convince me first.
2nd man: The idea is to win the championship.  We just saw first hand that there's nothing wrong with Lee's stuff
3rd man: But he turns 34 at the end of August.
2nd man: Yeah, it would be nice if he was a couple of years younger.
3rd man: Good, so let's not talk of this again.
2nd man: No, it just means we have to do a proper risk/reward, determine what he's likely to give over the life of the contract and deal accordingly.
3rd man: OK, let's say the Phillies agree to deal him, our guys sign off on it and we make a deal.  Do we really want to help that team out by taking away one of their albatross contracts?
2nd man: The guy who gave out those deals is still there.
Older man returns
Older man: OK, what do you have for me?
3rd man looks at 2nd man nervously
2nd man: We've been looking at this all wrong.  Instead of rolling the dice on another reliever hoping not to crap out again, let's get a starter instead.  How about Cliff Lee?
Curtain closes to the sound of breaking glass