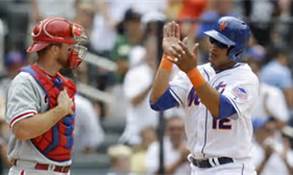 Juan Lagares had a great game on Monday, as he came up with two hits and made two outstanding defensive plays in the Mets' 6-1 win over the Twins. The game was a good illustration of the pros and cons for Lagares. While he had two hits, neither left the infield and one he would have been thrown out at first if the ball did not get literally stuck in the webbing of the infielder's glove, making a throw impossible.
Lagares had two great catches but the announcers made it seem like he had four.
We all want Lagares to be a star and to hold down center field for the next decade or more. But on our way to anointing him to the All-Star team, let's take a second to try and objectively look at his performance. It's been said that you're never as good as you look in your hot streaks and never as bad as you look in your slumps. Lagares has given us evidence of both hot and cold here in his rookie season.
In his first 34 games, Lagares put up a .507 OPS – that was the cold
In his next 31 games, Lagares put up a .905 OPS (.438 BABIP) – that was the hot
So, what is the real performance? Is it right in the middle of those two streaks, with a .706 OPS? Perhaps, but be aware that those two performances came with a .358 BABIP. For the sake of completeness, it should be noted Lagares had more PA in the hot streak, so those two groups above produced a .719 OPS.
Not included in either stretch mentioned above is what he's done in his last 19 games, where he's produced a .219/.238/.359 line for a .596 OPS. But before we claim that as his true talent level, he's got a .259 BABIP in this stretch.
Overall, Lagares has a .683 OPS for the season, about 35 points beneath what the average NL center fielder has hit this season. And that's with a .328 BABIP, which is elevated from what we consider normal. It may very well be that Lagares is the type of hitter who will consistently post BABIPs in this range. But at this point in time, it seems a mistake to make that the default assumption.
Regardless, it seems safe to say that Lagares will not hit as well as the average CF. However, his defense is well above average. That first catch, where he ran around 30 feet, jumped to catch the ball and then crashed into the fence was the stuff from which legends are made. Lagares also made another fine catch in the game.
The issue is when he gets praised to the heavens for any catch where he moves more than five steps. By all means, cherish the great plays. That play detailed above deserves all the praise it gets. But it cheapens the truly outstanding plays when the announcers and fans lose their marbles over any ball that's caught in which the CF has to move. Has it really been that long since Carlos Beltran played center for the Mets?
Keith Hernandez made a great point when he speculated that Lagares coming up as a SS helps explain why he is so good at charging the ball in the outfield. He's also been excellent going back on the ball and he's displayed a very strong, often accurate, throwing arm. But can we agree that a throw on the fly that's 10 feet up the third base line is not one to praise, much less go bananas over?
Coming into the season, it seemed very likely that the Mets needed to add three starting-caliber outfielders. Marlon Byrd has been better than anyone could have hoped for and has played so well that it's certainly at least an option to consider bringing him back as a starter next year.
Lagares, too, has played better than we could have expected. What he's done over his first 84 games in the majors has been to perform (offensive, defensive, baserunning) at a better-than-average level in center field. The question now is if he can do that over 150 games.
He's shown the ability to hit for average in the minors so it's not unrealistic to expect he'll do the same in the majors. But can he do anything else? Can he hit for power? Can he add walks to his game? Can he develop into a basestealer? These questions, along with an objective look at whether he actually will hit for average in the majors, all need to be discussed when determining his offensive value going forward.
It's often said that speed and defense never go into a slump. But before assigning Lagares a Gold Glove Award for the next 10 years, keep in mind that defensive play has peaks and valleys, too. Here are the top five defensive center fielders in the majors by UZR/150 in 2012 and how they are doing this year:
Michael Bourn, 23.4 – 7.6 this year
Drew Stubbs, 9.2 – (-0.5) this year
Denard Span, 8.7 – 6.8 this year
Carlos Gomez, 6.9 – 23.8 this year
Jon Jay, 4.7 – (-12.5) this year
Three of the top five players have declined significantly. Not listed above but a potentially interesting comp for Lagares is Ben Revere. In 2012, Revere posted a .675 OPS yet had a 3.0 fWAR thanks to outstanding defense and baserunning. This year he has a .700 OPS but with significantly worse defense and basrunning numbers, he'll be lucky to finish the year with a 1.5 fWAR, as he currently sits with a 0.9 mark in the category.
Revere is by no means a perfect comp for Lagares and even if he were, that would be a sample size of one, which is hardly significant. Instead, it's just a warning that one cannot assume a young player will continue to perform as good or better in defense and baserunning from a season ago.
We have 39 games left in the season to continue our evaluation of Lagares and how he fits on the club going forward. Those 39 games will not be the final answer but it will be interesting to see how he hits the remainder of the season. Unless he falls flat on his face, it's likely the Mets will pencil him in as the starting CF for 2014.
A league average player in CF at a pre-arb salary is a very desirable thing to have. On the list of things to worry about for 2014, center field seems like a very low priority. Yet it's important to realize that Lagares' defense is what makes him a league average player. Offensively, he is below average and only an unsustainable 105-PA streak is making his offensive numbers look this good.
Right now that 105-PA streak is roughly one-third (38.2%) of his total for the year. It will be curious to see what his hitting numbers look like when that streak represents one-quarter of his season, instead.
A reader asked me earlier why I was so down on Lagares, which is why all the positive things in this article have been highlighted. There's a lot to like about Lagares and just because one points out that he's not the next superstar doesn't mean that he's in any way a disappointment. As with any other player, the goal is to enjoy what he provides while putting it in its proper context.
Right now, nobody knows what Lagares will turn into in 2014 and beyond. His likely range of outcomes seems extremely broad. The enthusiasm that most have for him, in my opinion, needs to be dialed back. That doesn't mean that All-Star type numbers are off the table for Lagares. Rather it's just that he's not a lock to be the team's center fielder two years from now, much less five years away.