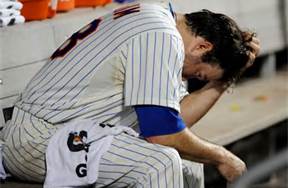 The next player in the Mets360 preseason projection review is Shaun Marcum. The original piece with the projections can be found here. As a group, the Mets360 staff projected the following line for Marcum:
IP – 160.2
ERA – 3.68
K – 125
BB – 47
HR – 17
Marcum was an example of what's been a typical off-season acquisition for the Alderson-led Mets teams: a veteran looking to reestablish his value signed to an incentive-laden deal. Sometimes this type of deal works out for the Mets (like Chris Capuano in 2011) and sometimes it doesn't (like Marcum in 2013). Marcum was signed to fill the void in the rotation left by the trade of R.A. Dickey and came as an injury risk. It didn't work out for either side, as his season was cut short in July when he underwent surgery to correct numbness in his pitching hand. With that in mind, let's see how the Mets360 staff did on each of their projections versus Marcum's actual results:
IP – 78.1
Best – Joura (115)
Worst – Mcwilliam (190)
ERA – 5.29
Best – Joura (4.35)
Worst – Walendin (3.43)
K – 60
Best – Joura (89)
Worst – Mcwilliam (153)
BB – 21
Best – Joura (38)
Worst – Gray (55)
HR – 7
Best – Joura (13)
Worst – Koehler (22)
Note that many of the counting statistics, like strikeouts and walks, projected above were off because Marcum did not finish the entire season with the Mets. That being said, Brian Joura ran away with this one. His lower projected counting statistics fell in line with his prediction of Marcum not pitching a complete season with the Mets. His projected line for Marcum was as follows:
IP – 115, ERA – 4.35, K – 89, BB – 38, HR – 13
The big name projection systems were wrong as well, though they also didn't appear to account for Marcum going down with an injury when he did.
It wasn't a particularly good season for Marcum. The story throughout much of it was that he was better than his numbers suggested, though. Indeed, his 3.64 FIP indicated that he was performing better than his terrible ERA suggested. Interestingly, throughout Marcum's career he did the opposite and outperformed his FIP each season. Even so, he was only under contract with the Mets through 2013 and they released him in late July.
With Matt Harvey officially out for most, if not all, of 2014 the Mets will again need to add some veteran depth to the rotation this off-season. However, even if Marcum were ready to pitch to start the 2014 season it seems doubtful the Mets would want him back. Marcum made some negative remarks about the SNY broadcast booth via Twitter in mid-September that stirred up a mini-controversy. It won't be rehashed here, but out of it came the suggestion by ESPN New York that Marcum was not well-liked and at this point a Mets-Marcum reunion seems unlikely.