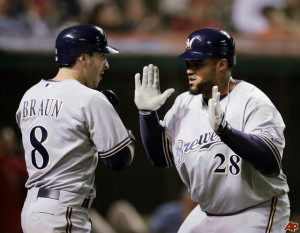 Last week, I posed the question "Who will the 2012 Mets be?" barring any major additions or subtractions on the player personnel side. Well, now let's make those additions and/or subtractions. When I say "let's," I mean just that: I'll throw out my opinions as to who should be brought in, and then I'll throw it out to you, gentle reader, to praise me for my sagacity or berate me for being a hopeless fanboy lunkhead. Of course, by all means add comments on who you'd like Santa Alderson to bring you this Christmas. Sandy has already shown that of all the Mets' GMs throughout their history, he's McGuyver. Alderson has an uncanny ability to make a quality acquisition out of sawdust, chewing gum and bailing wire. I think most fans trust him to do that, so let's have some fun. Just a couple of ground rules: (1) Please keep things realistic. Let's stay out of the realm of "Trade Jason Bay and DJ Carrasco for Jose Bautista…and have Toronto throw in a pitching prospect." (2) For the helluvit, let's pretend Bernie Madoff had never been born and ownership – whoever it is — has all the money it needs to improve the club this offseason.
With those in mind, here goes…
Let's take the opposite tack as last week: let's assume the injury bug is still buzzing around the Citi Field hive and Ike Davis, Daniel Murphy and Johan Santana are shelved for the major part of Mayan Doomsday. That would leave gaping holes at first base, half the projected second base platoon and in the starting rotation.
Let's solve the first base issue with one quick stroke of the pen: sign Milwaukee's free agent first sacker Prince Fielder. For once, I'll go along with the MSM conventional thinking that there's no way the Brewers will be able to pay both Ryan Braun – and his 15 years' worth of indentured servitude – and Fielder. There has been a lot of talk about this, especially on MetsBlog and in this perfect world we're creating, he'd take some Flushing cash to play out his career under the bright lights.
For second, I'd want Alderson to move Heaven and Earth to pry Brandon Phillips away from the Reds. I don't know how, or what it would take, but this is a labor of lust, right?
As for the rotation, I'm hoping Matt Garza can be had from the Cubbies, who are undergoing a front-office overhaul of their own. I'm hoping they'd be looking to shed some payroll and let Garza go quickly.
I know positions are fairly set in the outfield, but the Mets need to go younger and get better production out of the left side. I'd love to replace Jason Bay fairly cheaply and somehow get either Logan Morrison from the Marlins or Adam Jones from Baltimore. If I have a choice, I'd prefer Morrison, who, it would seem, has the personality – the right mix of tough and goofy – to handle the New York cauldron. It's just that mix that has vexed the Florida front office all year. He would be a lot of fun around these parts.
As we all know, the bullpen has been a shambles this year, so let's bring home Heath Bell and have done with it. The Padres have all but made it known they won't sign him as a free agent and I think some fence-mending money might make it attractive to bring Act II to Queens.
So here's the opening day lineup for your 2012 NL Champions:
1. Jose Reyes SS
2. Brandon Phillips 2B
3. David Wright 3B
4. Prince Fielder 1B
5. Lucas Duda RF
6. Logan Morrison LF
7. Angel Pagan CF
8. Josh Thole/Ronny Paulino C
9. Matt Garza P
Heath Bell will come in and close out the win.
Hey, a man can dream, can't he?
Author's Note: The news of the failure of the Wilpons and David Einhorn to reach an agreement came down as this was being written. You may do with that piece of information what you will…