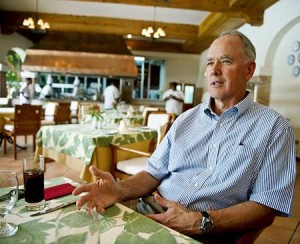 Last October immediately after the end of the season the Mets fired general manager Omar Minaya. Before Halloween, they hired Sandy Alderson to take his place. With almost a complete baseball season under his belt, let's take a look back and see how Alderson has done. Here are his major moves, excluding the 2011 Draft, separated into four grades.
Top of the Class (A Grade) – Trading Carlos Beltran for Zack Wheeler
Here Alderson traded two-plus months of a 34-year old with bad knees, a big contract and a unique clause preventing his club from offering arbitration into a top pitching prospect. Wheeler came with one obvious flaw – an extremely elevated walk rate. However, he switched back to the motion that he used in high school and in six games with the Mets, Wheeler allowed just 5 BB and had 31 Ks in 27 IP. He's in the discussion for the club's top overall prospect and should be no worse than third on every Mets' prospect list heading into next season.
Decent to Strong Moves (B Grades) – Picked up option on Jose Reyes; Hired Terry Collins; Signed Ronnie Paulino, Willie Harris, Scott Hairston, Taylor Buchholz, Chris Capuano, Tim Byrdak, Jason Isringhausen, Dale Thayer, Mike Baxter and Miguel Batista; Drafted Pedro Beato; Traded Francisco Rodriguez for two PTBNL.
The Reyes move was the main salary commitment made by Alderson. You can argue it was a no-brainer to pick up the option and/or you can point out that he missed the chance to sign him to a long-term contract before he hit the open market. Just picking up the option is probably what most GMs would have done. Reyes has enjoyed a super season while healthy and now the challenge for Alderson is to keep him with the Mets for 2012 and beyond.
The Rodriguez move was very nice in that it got the Mets out from the vesting option and the 2012 buyout. If that was the only consideration, this would be an A Grade move. But Alderson allowed Collins to use Rodriguez in a way in which his option would vest if he pitched the entire year with the Mets. I think for that this transaction has to be knocked down in value. The option handcuffed Alderson but he further painted himself into the corner by allowing Rodriguez to pick up non-save chance Games Finished.
Collins has done a fine job in his first season with the Mets. I just don't think it's an A-level performance. Also, in areas where it's questionable who had the final decision between manager and GM, I think future moves made by Alderson shows who was responsible. And it appears to me that some of these bad choices, to be detailed later, should be assigned to Collins.
Alderson assembled a better bench than Minaya ever did. Willie Harris and his 86 OPS+ might not seem like a B-level move, but when you consider the Mets have carried guys like Jesus Feliciano (54 OPS+) and Frank Catalanotto (8 OPS+) as OF reserves, that's a major upgrade. And several of these guys were signed to minor league deals and contributed throughout the season.
The Somewhat Defensible Moves (C Grade) – Drafted Brad Emaus; Traded for Chin-lung Hu; Signed Chris Young and D.J. Carrasco
The Mets wanted to upgrade second base so they took a flier on Emaus, a good-hit, poor-field prospect. This was a decent enough idea but forcing him into the starting lineup seemed unnecessary and for that I blame Collins. When we factor in that Alderson reacted so soon in getting rid of Emaus, that says to me that carrying him on the roster was not the GM's idea. In hindsight, it would have been much better if Daniel Murphy could have gotten more defensive reps at second base in Spring Training.
After wasting $2 million and 495 PA on Alex Cora, the Mets needed a cheap backup middle infielder and in December Alderson traded veteran minor leaguer Mike Antonini to the Dodgers for Hu. It seemed like a good idea at the time, especially as Hu would be making the major league minimum. But Hu never got untracked offensively for the Mets. That he lasted until mid-May indicates to me that Alderson was more responsible for his continued presence than Collins.
I would have given you any odds you asked for and wagered that Young would not make it through the year healthy. I don't think Alderson expected him to last the entire year, either, but I bet he thought he would give more than the 24 IP that he did. The Mets had to shop in the bargain basement this offseason and look for guys coming off injury. It worked with Capuano and it didn't with Young. I just felt like there was no reason to expect Young to be healthy for 100 or more innings. The only thing keeping this from a D-level grade is that he pitched so well in his four starts.
At the time of the signing, I liked the Carrasco move. Even three weeks ago, I put it in the defensible category. However, in his last seven appearances, Carrasco has allowed 11 R and 17 H in 9 IP and now has a 5.40 ERA and 1.578 WHIP for the season. He came to the Mets with a reputation as a ground ball pitcher who kept the ball in the park. But his 1.24 GB/FB ratio is the lowest of his career and his 12.7 HR/FB ratio is his highest since 2004. In his last seven games, Carrasco has surrendered more fly balls (13) and line drives (14) than ground balls (12). It's just been painful to watch and the Mets are on the hook for next year with Carrasco, too.
The Clunker (D Grade) – Signed Blaine Boyer
I want to give the Boyer signing an F, I really do. There was nothing in his track record to get excited about and Alderson went against his stated word of evaluating pitchers on their entire track record and not just Spring Training stats when picking the Opening Day roster. This is another one I put at the feet of Collins, as Alderson wasted no time getting rid of Boyer, as he DFA'd him on April 12th. The quick trigger on his release, and the fact the Mets did not lose Manny Acosta to accommodate Boyer, are the only things that keep this from an F.
*****
It's too soon to pass ultimate judgment on Alderson for his first year because so much will depend upon how Wheeler and the 2011 Draft pans out. Alderson swung for the fences with first-round pick Brandon Nimmo and if he reaches his upside than I have no doubt that Mets fans will look back at Alderson's first year as a smashing success.
When grading things like this, you always have to keep in mind your feelings when the move was executed in addition to how it looks after the fact. At the time, it seemed like Carrasco would be an excellent middle reliever but I don't think anyone feels that way now. Still, it grades higher than the Boyer move because it made sense when the deal was done.