It would appear the endgame is nigh for Fred and Jeff Wilpon.
The judges are convening – even as we speak – and the fate of the ownership seems a fait accompli: the Wilpons will be forced to sell their chunk of the Mets in order to pay off mammoth debts on Madoff victims, SNY-TV, and Citi Field. For all I know, they may also have a 90-day invoice to the caterers for the post-game clubhouse spread. In short, it would take several massive miracles for Fred, Jeff and Uncle Saul Katz to retain a significant portion of the franchise. With a little help from their friends in the MLB hierarchy, they'll be able to make their exit as gracefully and with as much dignity as possible, considering the NYC media cauldron and 24-hour news cycle.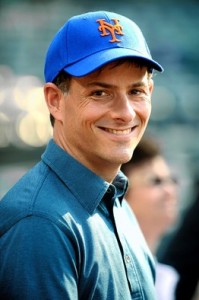 Enter David Einhorn, the new, chosen, designated, legal partner in the ownership group. At first flush, he would seem the perfect fit to swoop in and take control. He's in his early-40's, he's a Long Island local, he has been a roaring success in fairly arcane financial ventures – how he makes his money is certainly over my head – and he's a baseball fan. Sound familiar? This is strikingly similar to the resume Fred Wilpon himself brought to the table 31 years ago, when he and Nelson Doubleday took the reins from a diffident and disinterested Payson family. Fred was young, dynamic and aggressive in terms of building the Mets' brand, first by hiring Frank Cashen as GM and slowly, prudently discarding the pinchpenny ways of the prior regime. That ownership was just the breath of fresh air this franchise needed.
30 years on, this ownership is once again in desperate need of fumigation. The front-office put in place during these final fitful months of Wilponic hegemony has given David Einhorn the head start Fred never had. Think of it as Fred, Jeff & Saul's going-away gift to us fans. If Einhorn will stay out of Sandy Alderson and co.'s way, keep his mouth shut and just keep signing the checks, that would be the most satisfactory answer to the question posed in the title. I'd love to see him be a kind of Steinbrenner-with-an-internal-filter: a burning passion to win without being an ass about it. My guess is that that's how he will start out. I think it will result in at least a few pennants and a World Series title or two. But time, as we know, brings out many changes and shifts in personality and actions. It's quite possible that Einhorn could eventually become a latter-day Jeff – nosing around the clubhouse, circumventing the plans of the GM and his lieutenants, getting chummy with and seeking policy input from players.
Were that to happen, the longtime, sadly cynical Met fan such as I would only be able to shake his head and look forward to better times. We're used to that by now.