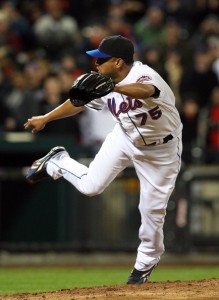 One of the main goals of the 2011 Mets was to make sure that Francisco Rodriguez' $17.5 million option did not vest for 2012. The option would kick in once Rodriguez finished 55 games. Manager Terry Collins utilized Rodriguez like any other manager would use his closer and by the All-Star break, Rodriguez had finished 34 games and was well on his way to having his 2012 salary guaranteed.
But GM Sandy Alderson was able to trade Rodriguez to the Brewers for two warm bodies, thus saving his owners at least $14 million, as K-Rod had a $3.5 million buyout. The Mets used Jason Isringhausen as their closer until he reached his 300th lifetime save and then they turned over the position to Bobby Parnell, who proved not ready for prime time. Manny Acosta also got some chances down the stretch but it became clear that the Mets would have to look outside the organization for their 2012 closer.
Alderson stated that he wanted to bring in two guys with closing experience, thus giving the team a deeper all-around bullpen plus the security if the main option did not come thru that the Mets had someone else on the roster ready to step in and be better than Parnell was down the stretch of 2011.
In the offseason, Alderson spent what little money he had available on the bullpen. He signed Frank Francisco ($6 million in 2012) and Jon Rauch ($3.5 million) and traded for Ramon Ramirez ($1.65 million). Mission accomplished, I guess. However, as the team is currently constructed, it has neither a true backup shortstop nor center fielder. But with the Mets record in the health department, we should feel confident that both Ruben Tejada and Andres Torres will log 150 games in 2012, right?
Currently, most fans are questioning if the Mets should have spent what money they did have on the bullpen, instead of on a starting pitcher or a catcher. I think that's a reasonable question. I think you can take it one step further and ask if the Mets should have found a way to bring back Rodriguez.
To replace Rodriguez, the Mets spent $11.15 million on the three above-named pitchers. And there's no guarantee that any of them can hold down the ninth inning for an extended basis. Let's look at them individually.
Francisco – Heads into Spring Training with the inside track for the closer's job. Last year he had 17 saves and two years before that he had a career-high 25 saves. In his final 22 games last year, Francisco was lights-out, with a 1.17 ERA and he limited batters to a .520 OPS over his final 23 IP and 87 batters faced. But in his first 32 games of 2011, Francisco had a 5.53 ERA and opponents had an .861 OPS over 27.2 IP and 131 batters faced.
Rauch – There's nothing in his 2011 line to inspire any confidence at all in his ability to be a closer. He had a 4.85 ERA, a 1.35 WHIP, a 1.90 HR/9 and his 6.23 K/9 was his lowest mark since his second year in the league in 2004. His average fastball velocity went from 92.0 in 2008 to 89.5 last year. And if you think he was done in by his home park, you would be mistaken. Thanks to a .229 BABIP allowed, he posted a 3.62 ERA at home with a .652 OPS against at the Rogers Centre while on the road those numbers were a 6.20 ERA and a .947 OPS against.
Ramirez – Despite pulling down the least amount of money, Ramirez had easily the best year of the trio in 2011. He had a 2.62 ERA, a 1.165 WHIP and a stingy 0.39 HR/9 mark. However, Ramirez had just four saves last year and has eight in six seasons in the majors. He's the only one who doesn't come covered in the mythical closer's dust. It certainly looks like he should be able to get the job done but he has almost no track record in the position.
Meanwhile, Rodriguez has had just one poor year in his career in the majors, and if you look closer, it was actually half of a bad year. In his first season with the Mets, Rodriguez was 2-1 with a 2.33 ERA and a 1.164 WHIP in the first half of the season. After the break, he posted a 1-5 record with a 5.52 ERA and a 1.500 WHIP.
K-Rod rebounded with a fine year in 2010, with a 2.20 ERA and a 1.151 WHIP and while his ratios tailed off in the first half of 2011, he still converted 23 of 26 save chances and had a respectable 3.16 ERA. His numbers were even better after the trade to Milwaukee, although his 1.86 ERA and 1.138 WHIP did come primarily in non-save chances.
Are the Mets better off hoping that Francisco's ending to 2011 (1.17 ERA) is more indicative of his true talent level than his beginning of the year (5.53 ERA) was than they would have been to work out a deal with Rodriguez? After the trade to Milwaukee, Rodriguez and the Brewers worked out a $500,000 deal to void the vesting option in his contract. Did the Mets try something similar?
It's easy to dismiss wondering if the Mets would have been better off with Rodriguez by mentioning the financial straits the owners are in and the fact that Rodriguez would have cost nearly $6 million more than the trio signed to replace him. But that's assuming the Mets would not have been able to work out an extension with Rodriguez at a smaller annual value.
Alderson used creativity to bring in three relievers to handle the late innings of ballgames for the 2012 Mets. In a way, it's eerily similar to what Omar Minaya did in 2009 and we know how that one worked out. I just wonder if Alderson's creativity would have been better served extending Rodriguez.
Would you rather have the trio of relievers the Mets have now or Rodriguez on a 3-year $36 million deal? Clearly, Alderson is comfortable spending roughly $12 million on the back end of the pen. Perhaps Alderson did try (although if he did – no ballpark terms, much less a firm dollar offer has been made public) and Rodriguez and his agent rejected that overture. If so, I still have one question:
If we couldn't afford Rodriguez or Carlos Beltran or Jose Reyes, then why spend $3.5 million on Rauch, a guy on the wrong side of 30 who was sub-replacement level last year?